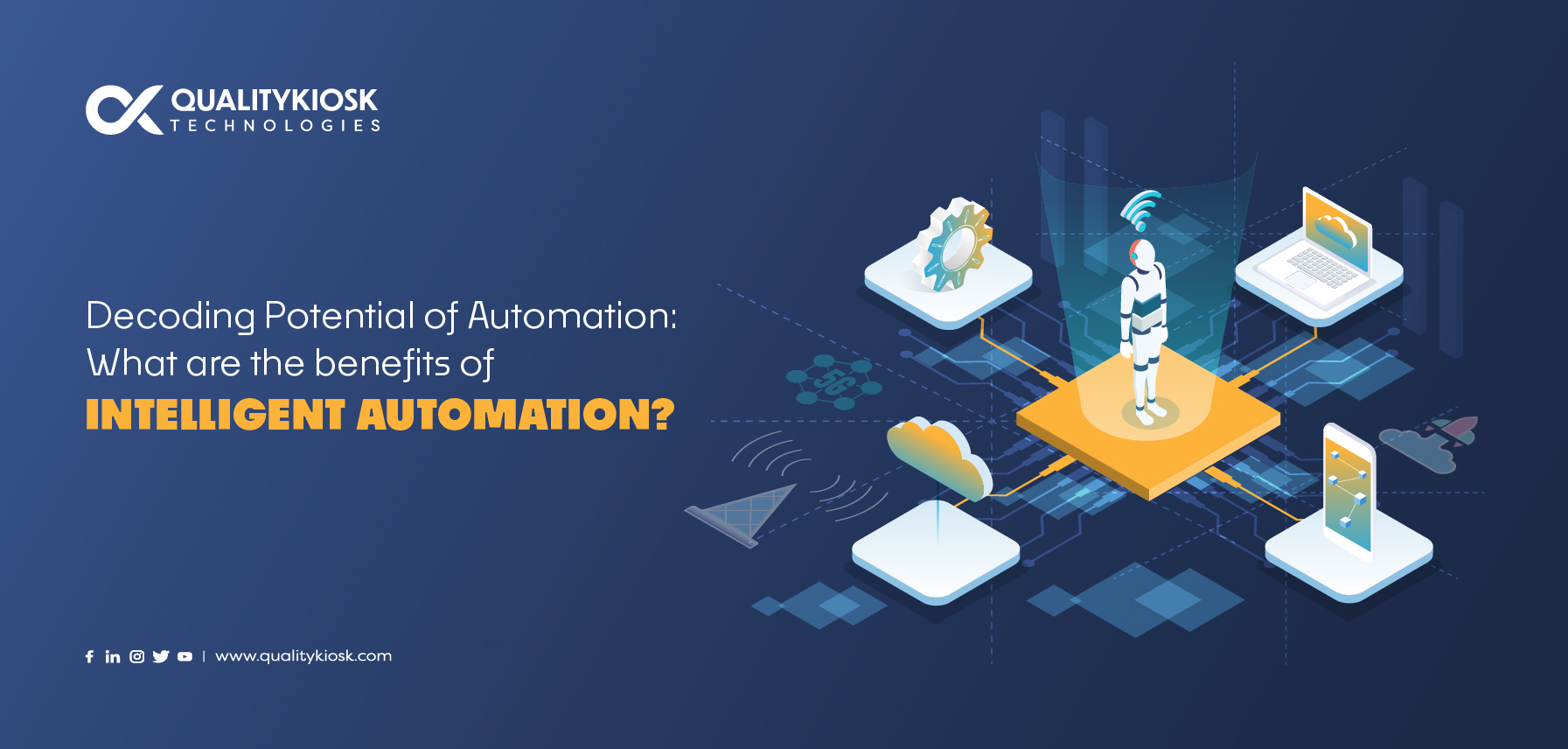 Have you been contemplating Intelligent Automation (IA) implementation in your business-critical processes? Well! You are in the majority of organizations that are looking to adopt RPA or cognitive automation technologies in future. As per a study, it is predicted that 72% of the organizations would have kickstarted their RPA journey in 2023. 
The increasing demand for Intelligent Automation can be attributed to the technology's flexibility and usability — non–technical employees can leverage it to increase productivity and enhance customer experience. This AI-infused RPA technology is the next big thing in the software market, with RPA already accounting for the fastest-growing market segment. As RPA initiatives can help organizations gain an ROI of up to 200% in the first year of implementation, it is a lucrative opportunity for companies to invest in the technology. Apart from faster realization of ROI, Intelligent Automation also comes with a plethora of benefits — a few of which we will explore in this blog. 
Top benefits of implementing Intelligent Automation in your organization 
Enhance Customer Experience:

When you integrate Intelligent Automation into your operations, it will boost internal efficiencies, which is reflected in improved experiences for your customers.

 
  With faster and more efficient processes, you will be able to answer customer questions more accurately and quickly, resolve complaints seamlessly, and make the onboarding process less cumbersome. 
Increase Productivity:

Amping up productivity is one of the main reasons why organizations invest in Intelligent Automation. According to

Gartner

,

  40% of large enterprises will embrace AI-augmented automation technology by

the end of

2023 because of the productivity boost the technology provides.

 
Automating manual tasks helps business leaders free up resources and time that can be focused on more innovative assignments. As per a Deloitte Survey, 95% of the organizations which implemented RPA noticed that the technology has helped them improve productivity. The next era of digital transformation will be led by automation — companies are not only digitizing   business processes but automating them.  
Shorten End-to-End Process Cycle:

If your business processes include managing, monitoring, and analyzing large amounts of data, Intelligent Automation can help you speed up processes and enhance efficiency. When automation is infused with advanced technologies like AI and Machine Learning, it significantly decreases the time and effort of your workforce.

 

Improve Employee Engagement:

Highly motivated employees drive growth and profitability. However, tedious and repetitive tasks can hinder employee engagement and hamper their morale. Intelligent Automation can seamlessly automate such tasks, liberating your team members from cumbersome processes. Thus, helping them give more time to high-value strategic projects. 

Achieve Process Excellence:

With Intelligent Automation helping you with shorter turnaround time, better risk mitigation, fewer complaints, improved forecasting, and various other operational benefits, process excellence will be an achievable and easy goal. 

 

Reduce Process Costs:

One of the key

benefits of Intelligent Automation

is the decrease in operational costs. As Intelligent Automation helps you reduce process time, you can see a significant difference in the cost incurred. Typically, Intelligent Automation can help you

save 40% to 75% of costs

.

 

 

Mitigate Risk and Stay Compliant:

While organizations today face various forms of internal and external risks, implementing IA can help you eliminate a few of them and minimize a few others. By simplifying processes and improving accuracy, automation allows your audit and compliance teams to reduce the frequency of reviews and mitigate regulatory breaches. In addition, an agile Intelligent Automation strategy protects your critical data from technical glitches and cyber-attacks.

 

Enable Continuous Innovation:

Improve your operational efficiencies in real time by identifying new and better ways to perform tasks with Intelligent Automation. Though human creativity and insight are going to be vital components in making this improvement, Intelligent Process Automation technology will be the critical device to achieve sustainable innovation.

 
Reinvent your processes with Intelligent Automation: How QualityKiosk can help 
QualityKiosk Technologies has a team of seasoned automation experts devise and implement an agile Intelligent Automation strategy that meets your organization's requirements and reap maximum benefits.  
We have experience working with some of the top companies across the world to resolve their unique challenges through the power of automation. You can reach out to us at letsconnect@qualitykiosk.com to schedule a quick discussion with our team and get your automation journey started.