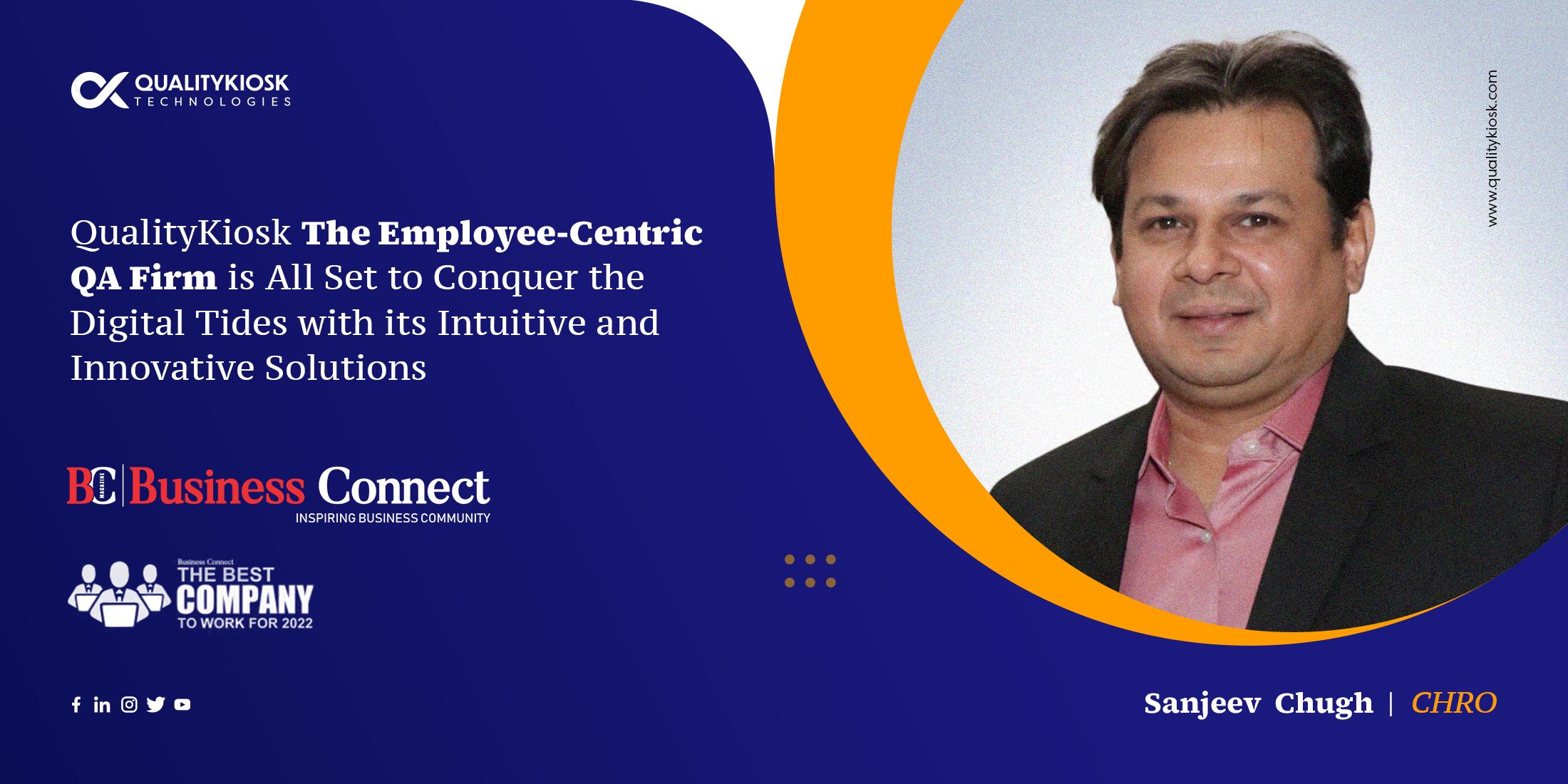 QualityKiosk Technologies, a top-notch independent digital transformation and quality assurance specialist, is emerging as a global leader in this space for its innovative and exclusive suite of services that are offered with peerless delivery and are equipped with exceptional capabilities in fetching maximum advantages for its clients.
The firm operates from its Mumbai headquarter and offers a versatile and extensive portfolio of solutions, including QA automation, Performance Assurance, DevOps, Robotic Process Automation (RPA), Customer Experience Services, Digital Testing as a Service (DaaS), Data Analytics, Cloud and Site Reliability Engineering (SRE), Synthetic Monitoring and other Data Science. With its IP-led solutions and domain-specific QA and monitoring frameworks, the organisation provides industry-leading QA and digital transformation solutions to the BFSI, telecommunications, media and entertainment, manufacturing, pharmaceuticals, and automotive industries.
Supported by robust and talented in-house team members with a developing background, QualityKiosk has evolved into the preferred digital transformation and assurance partner for some of the largest global banking, fintech, and digital-first organisations. At the helm of QualityKiosk, is Mr. Sanjeev Chugh, a passionate visionary spearheading the company's rapid growth in the critical position of CHRO. His dynamic leadership and the entrepreneurial culture at the company demonstrate total mastery of every requisite competency within the organisation.
Believing that stable leadership is a testimony of trust & consistency in 'people management practices, QualityKiosk Technologies has successfully won the "The Best Company to work for 2022" title for its highly credentialed and capable team that inspires the entrepreneurial mindset and ' people-focused culture. The visionary leader, Sanjeev Chugh, in a heartfelt conversation with Business Connect Magazine, shared the essential elements that supported QualityKiosk to achieve this title, the beginning of the journey, and his insights as a successful entrepreneur.
Here are the edited excerpts.
Q- BCM: PLEASE PROVIDE US WITH A BRIEF OVERVIEW OF HOW YOUR COMPANY'S ENDEAVOUR STARTED.
Mr. Sanjeev: QualityKiosk Technologies was established in 2000 to reinvent customer-centricity in IT and IT-enabled services. To do this, we started utilising cutting-edge technology to develop thorough and intelligent digital assurance solutions that empower companies to provide improved and seamless end-user experiences across their expanding digital ecosystems and value chains.
Q- BCM: PLEASE DO ENLIGHTEN US ON HOW YOU BUILT YOUR TEAM.
Mr. Sanjeev: We have built our team by upskilling and right skilling our QKites across all levels through QualityKiosk University and with the guidance of expert and experienced mentors in our leadership team. We have a robust talent management program and the best hiring team that helps in building motivated, talented, and dynamic teams for our projects.
Beginning with critical domain advisory talent investments, we built a network of practitioners from our project teams who have nurtured and coached upcoming practitioners. When assembling our core team, we carefully identified the top talent and subject-matter specialists in several industry sectors. This has aided in the spontaneous development of our talent.
We created the QualityKiosk University to nurture and develop the organisation continuously through our Mumbai campus and online platform, LinQ (Learning Intervention for NewAge QKites), we have been able to upskill and broaden the horizons of our 4000+ quality engineering professionals.
Q- BCM: IN LIGHT OF THE COVID-19 SITUATION, HOW ARE YOU ASSURING IMPROVED RESULTS FOR YOUR COMPANY?
Mr. Sanjeev: Our foremost priority during the pandemic was to ensure the safety of our employees and their families. And to accomplish this, we worked tirelessly to set up the necessary infrastructure so that all of our workers could work remotely. Then, assuring our client's business continuity and providing smooth customer experiences, we redirected our attention to understanding their evolving and urgent requirements.
We did this by utilising our already existing delivery and customer support infrastructure. We are concentrating on scaling the digital ecosystems efficiently in the current situation. To guarantee that employees can maintain a healthy work-life balance, we use the hybrid work model, which allows them to work from home or in the office.
Q- BCM: HOW DO YOU ENSURE THE QUALITY OF SERVICES IN YOUR COMPANY?
Mr Sanjeev: We are industry leaders in digital quality assurance and engineering, and we always have invested in quality in people, processes, and technology. We have models for continuous improvement built into our programmes to consistently deliver excellence in the calibre of the results produced and the calibre of the services we offer.
Q- BCM: WHAT TYPES OF CLIENTS DO YOU CATER TO? PLEASE PROVIDE A LIST OF NAMES.
Mr. Sanjeev: We serve a diverse set of clients ranging from financial services, e-commerce, manufacturing, pharmaceuticals, automotive, and telecom to media & entertainment industries. Our leading clients include ICICI Bank, Abu Dhabi Commercial Bank, AIA Philippines, HDFC Bank, FWD, ICICI Prudential, IndusInd Bank, Kotak Mahindra Bank, Tata Motors, Mahindra, Globe Telecom, Jio, Abbot, Marico, Tata CliQ, and Zee5.
Q- BCM: PLEASE ENLIST YOUR EXCLUSIVE APPROACH TO MARKETING OUR PRODUCTS/SERVICES.
Mr. Sanjeev: Our marketing tactics for all of our products and services are centred on the customer's needs like our solutions; our marketing strategies are focused on providing the right information to our customers about the changing technical landscape and the digital revolution, as well as how our solutions can help them succeed in today's fiercely competitive market. We resonate with our target audience and generate traction for our offers by assisting them in understanding the value that our products, solutions, and services can provide to their company value chains.
Q- BCM: PLEASE LIST YOUR COMPETITIVE ADVANTAGES AND EXPLAIN WHY THEY ARE UNIQUE AND COULD NOT BE IMITATED.
Mr. Sanjeev: Our team of transformative owners has won awards and has a track record of success working with the biggest banks, insurance companies, fintech companies, and other digital enterprises. We are one of the few global companies in independent quality assurance, intelligent business automation, quality engineering, and customer experience services. We are uniquely positioned to help our customers realise their digital aspirations because we can work with them seamlessly from development to production, final deployment, and CX optimisation digital applications. This as demonstrated by the fact that we frequently work with clients who are innovators in their particular fields and businesses.
Q- BCM: WHAT STRATEGIES DO YOU EMPLOY TO MAINTAIN TEAM MOTIVATION?
Mr. Sanjeev: With our flagship learning programmes, core organisational values of respect for individuals and fostering long-term relationships, along with a transparent work environment, easy access to leadership, freedom to experiment, and exciting opportunities across all designations and levels, we ensure that our employees have everything they need to reach their potential and advance their careers. This helps employees to stay motivated and enthusiastic at work, along with the entrepreneurial work atmosphere, our extensive rewards, and recognitions programme, offsite, and other enjoyable employee engagement activities.
Q- BCM: COULD YOU PLEASE LIST THE COMPANY'S ACHIEVEMENTS AND ACCOLADES ATTAINED BY THE COMPANY BY FAR?
Mr. Sanjeev: QualityKiosk has been featured in leading analyst publications for its solutions and services:
Featured in Gartner's market report titled "Market Guide for Application Testing Services" under PurePlay Testing services
Featured in Forrester's Now Tech: Continuous Automation and Testing Services Provider Report
Recognized as a significant contender in Everest Enterprise Quality Assurance (QA) Services Peak Matrix ®Assessment 2022
Awarded with the Testing Platform of the Year 2021 title at the World Quality Summit 2021.
Q- BCM: PLEASE SHED SOME LIGHT ON THE FUTURE ENDEAVOURS OF THE COMPANY.
Mr. Sanjeev: We intend to continue expanding our global footprint and business in India, APAC, EMEA, and North America regions. We will continue to invest in the next generation of transformative technologies such as cloud migration and engineering, intelligent and AI-led automation, digital quality Engineering, AIOPs, SRE and Customer Experience while developing and extending our IPs QRACE DTaaS, COMPAS and Anabot.
Q- BCM: SHARE SOME WORDS OF WISDOM YOU WOULD LIKE TO CONVEY TO ASPIRING ENTREPRENEURS.
Mr. Sanjeev: Every successful firm is built on a customer and employee-centricity foundation. To accomplish this, business owners should comprehensively understand their client's operations, objectives, and vision. Additionally, employees should have plenty of opportunity and room to learn, experiment, and grow at work.