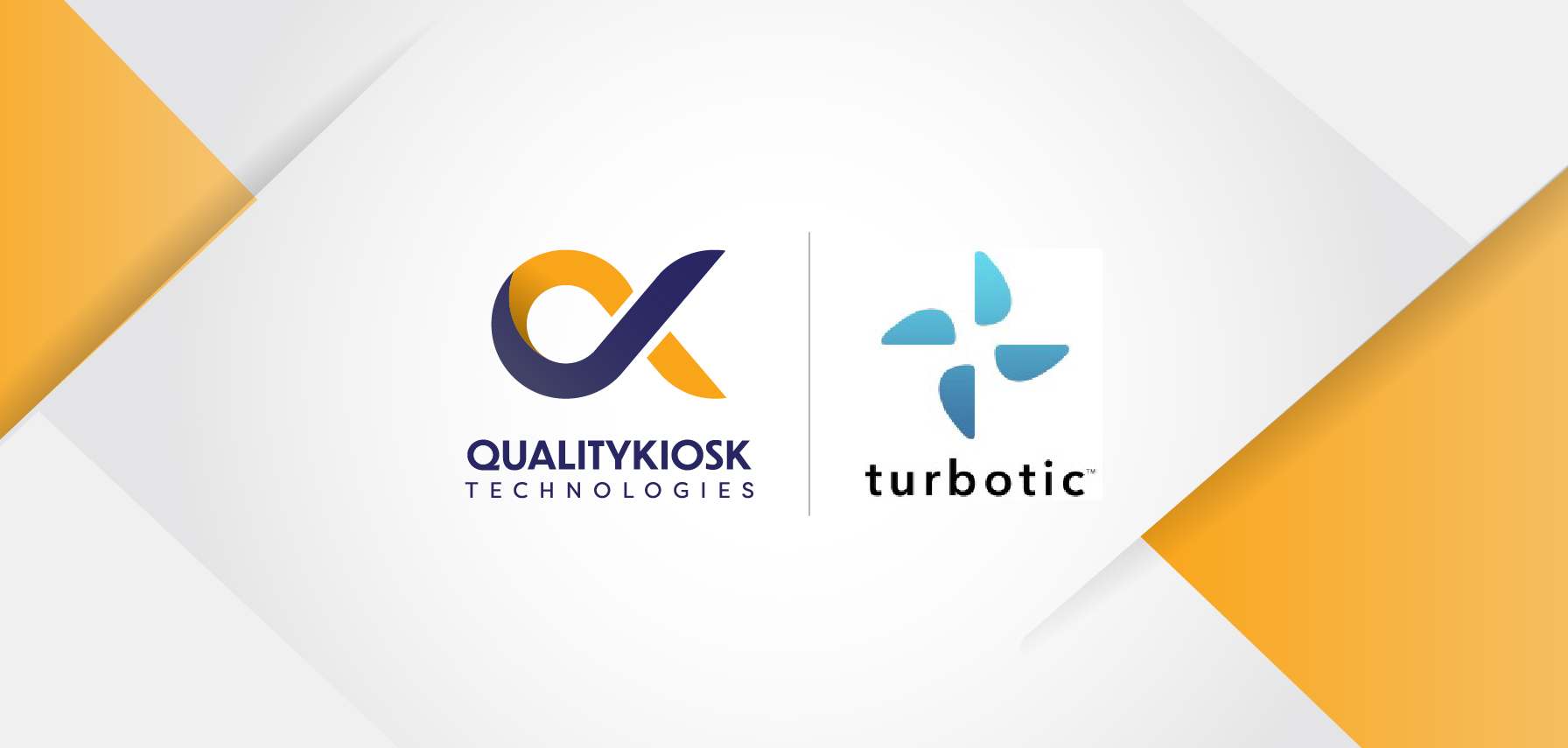 India, 19th January 2023: QualityKiosk, a leading intelligent automation services company and Turbotic, pioneer in automation optimization have signed a partnership agreement. QualityKiosk will incorporate Turbotic's platform into its multi-technology service offering to drive increased productivity and operational efficiency in automation. QualityKiosk Technologies, one of the largest independent digital transformation and quality assurance specialists, announced a strategic partnership with Turbotic, a pioneer in AI and Automation optimization.
QualityKiosk's Intelligent Automation Services complement the Turbotic platform, which provides and end-to-end automation management and orchestration capabilitiy to accelerate and scale intelligent automation. The Turbotic platform provides an integrated platfrom to orchestrate, manage and control the breadth of enterprise automation initiatives. The platform features out of the box integration with several leading automation vendors including UiPath, Automation Anywhere, Blue Prism and Abby, among others, and solves many challenges to help enterprise realize optimal value from their automation investments.
With more than 300 automation experts across domains, QualityKiosk offers Intelligent Automation Services that improve business velocity and value creation in enterprise automation.
"We're delighted to partner with Turbotic. Their enterprise-grade automation management platform, coupled with our years of automation expertise, certified RPA specialists, and comprehensive process repositories, will bring more value to our clients from their AI and automation investments and the ability to track the value in real time, thus accelerating their digital transformation journey." said Maneesh Jhawar, CEO QualityKiosk Technologies.
QualityKiosk Technologies partners with industry-leading innovative platform providers to bring the best-of-breed solutions and services to help clients drive their digital transformation goals efficiently.
"This is an exciting time for us as we continue to grow our footprint in APAC & ME. Our customers are seeing incredible value from our end-to-end, multivendor, multitechnology capability and are driving increased operational efficiency and automation value. QualityKiosk have a long experience, a talented team of experts and excellent methods and practices on the market for the deployment and development of intelligent automation. We are delighted to be partnering with them" said Abhishek Kishore Gupta, CEO, APAC & ME, Turbotic.
Turbotic, founded in 2020, is a pioneer and leader in Automation Optimization and delivers a fully integrated cloud platform built to support enterprises scaling, monitoring, and managing their Automation efforts. Turbotic integrates with the leading best-of-breed vendors such as UiPath, Microsoft Power Automate, Automation Anywhere, Blue Prism, Abbyy and more. The world's leading brands use Turbotic across the end-to-end Intelligent Automation lifecycle, from identifying opportunities to delivery, automated operations, and benefits tracking. Visit www.turbotic.com
QualityKiosk Technologies is one of the world's largest independent Quality Assurance (QA) providers and digital transformation enablers, helping companies build and manage applications for optimal performance and user experience. Founded in 2000, the company specializes in providing QA automation, performance assurance, robotic process automation (RPA), customer experience management, site reliability engineering (SRE), digital testing as a service (DTaaS), cloud, and data analytics solutions and services. With operations spread across 25+ countries and a workforce of more than 3000 employees, the organization is enabling some of the leading banking, e-commerce, automotive, telecom, insurance, OTT, entertainment, pharmaceuticals, and BFSI brands to achieve their business transformation goals. QualityKiosk Technologies has been featured in renowned global advisory firms' reports, including Forrester, Gartner, and The Everest Group, for its innovative, IP-led quality assurance solutions and the positive impact it has created for its clients in the fast-changing digital landscape.
To learn more, visit https://www.qualitykiosk.com.
For more information, contact:
Naeem Shaikh
Press Coverage Websites:
Business Standard: QualityKiosk Technologies partners with Automation Optimization Pioneer Turbotic | Business Standard News (business-standard.com)
DailyHunt: Dailyhunt
The Print: QualityKiosk Technologies partners with Automation Optimization Pioneer Turbotic – ThePrint – ANIPressReleases
ZEE5: QualityKiosk Technologies partners with Automation Optimization Pioneer Turbotic – Articles (zee5.com)
Live Mint: QualityKiosk Technologies partners with Automation Optimization Pioneer Turbotic