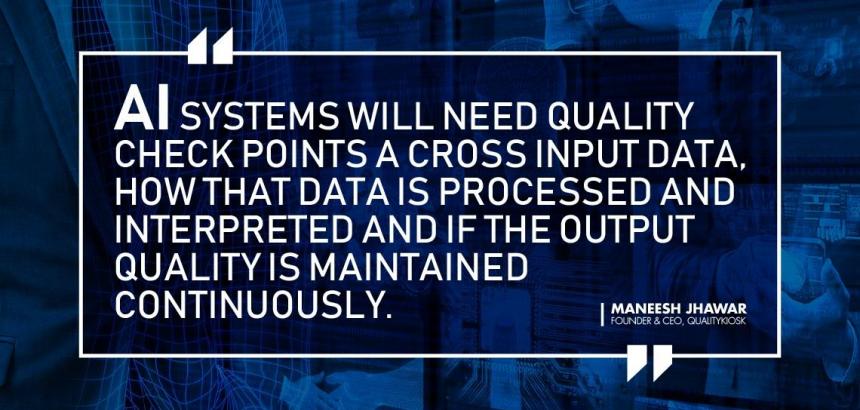 "The IT testing industry has undergone a huge transformation in the digital age. Back in the day, for a core banking or an insurance organization, the entire IT team's focus was the core system with one or two releases per year."
These are the thoughts of Maneesh Jhawar, CEO of QualityKiosk Technologies, who started the organization back in 2000. Maneesh, who started his career at Procter & Gamble, along with his core team members, Chitra Ramaswamy, a seasoned veteran in the IT industry with three decades of experience, and Gauraav Thakar who manages the marketing and operations in the firm, sensed the gap in the software testing industry.
Today, with digital applications and multiple channels, the core system, still crucial, is not the only important system. There are digital applications where incremental releases are done every day. But, back in the day, even veterans would agree to Maneesh's thoughts that no more than 1-2 releases per year were being done.
One way to look at this transformation is from a customer's point of view. In 2001, communication was one-sided – brand to the customer. Today it is a two-way interactive communication.
"In case the customer is not gratified at the time of his choice and across the channel he chooses to engage with the brand, be prepared for a social media tantrum. Continuous monitoring is needed to continuously delight customers who have had a frustrated or below par experience" says Maneesh.
Today no business can run in isolation as it has become imperative to have connected eco-systems, each one leveraging data to capture the wallet and mindshare of customers. Everything is getting truly omnichannel and multi-modal for end customers.
Building one of the world's largest software quality assurance providers and pioneers in performance testing organizations, Maneesh opines that with technology disruptions across industries, the key to staying ahead in the game for organizations, is the accelerated velocity in terms of reducing testing cycles, reducing product go-to-market times and staying ahead of the competition.
He and his team strongly believe in addressing critical customer needs – Quality (ensure scalability of operation), velocity (faster time-to-market), and experience (Consistency of performance across networks, devices, locations).
Going forward with the trend, Maneesh states that continuous testing based on domain-specific automation platforms will be a key area/ trend that will stay in the limelight for some time to come.
The classic waterfall development and testing methodology will give way to Agile and DevOps, again relying heavily on automation. Mobile testing frameworks and automation are the rage and will continue to do so in the near future.
With machine learning and AI, predictive models and algorithm-based testing will come into play. Manual and plain vanilla automation cannot keep pace with AI-centric systems.
These new-age testing models will monitor in real-time. At the point where data is going into the machine learning & AI systems, it has to be the right data that goes in so that it learns correctly and enhances the output.
"So, AI and ML systems should be viewed from point of view of the fundamental principal of IT; garbage in, garbage out – If data patterns are wrong then the systems will take longer to learn, and eventually the outcome will be wrong" he adds.
Apart from the industry buzzes like AI and ML, being in the business of guaranteeing scalable and seamless digital business for the last 17 years, QualityKiosk observes that software testing is at a point of inflexion and the Internet of Things and Smart Devices, Quality Assurance will take center stage.
Their unique SaaS platform deploys services across the quality assurance lifecycle on a 24×7 basis to deliver a delightful end-user experience for mission-critical business applications.
The company also plans to grow 5X in the next 5 Years. This growth will be in revenue and incremental in terms of the organisation size.
For every company, its people are its strength. In QualityKiosk, every QKite brings value to the clients in everything they do. In order to achieve that goal, the teams are constantly upskilled to continue to maintain the edge in the market.
The company has been constantly learning and adding value to clients by implementing best testing practices through cross-industry and cross-technology learning and knowledge sharing.
Saving the best for the last, QualityKiosk's technology platforms like QATH for automation, are essential in delivering value to clients, their performance engineering platform uses the unique methodology of Early PT to reduce performance testing cycles by 30-50%.
As a closing note, Maneesh states that when it comes to software testing, there is no one size does not fit all. The right testing approach is based on the business objectives, type of application and associated technology stack, development and testing methodology (waterfall, agile) and last but not the least the culture of the organisation.
Article first appeared in Techstory