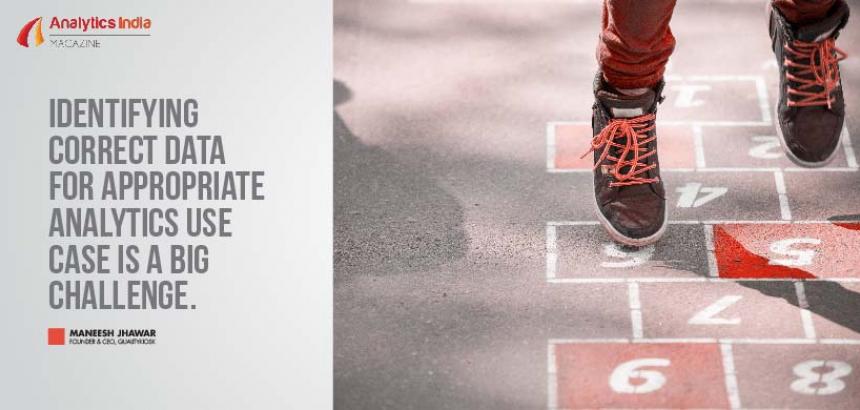 Founded in the year 2000 by IIT-Kanpur graduates, including Maneesh Jhawar, QualityKioskhas come a long way to be world's one of the largest software quality assurance providers and pioneers in testing. With its unique SaaS platform and end-to-end digital and enterprise quality solutions, it offers services to banking, financial services, insurance, retail and others. In the past 17 years it has provided premium user experience to over 3500 projects across 50+ Fortune 100 of India and 18+ Fortune 500 companies across the globe. Some of their clients include IDFC Bank, TATA AIG, Manulife, Tata Motors, Bharati-AXA, South Indian Bank among others.
It is with Jhawar's emphasis and commitment towards governance, best-in-class business practices and constant innovation that the company has earned superior credentials consistently. In his career of 26 years, his customer-centric attitude is based on the philosophy of treating customer's business challenges as his own, which inspires each of his employees to work towards business outcomes for clients.
A B. Tech from IIT Kanpur, and having completed a program on 'Transforming Professional Services Companies" from Harvard Business School, he started his career with Procter and Gamble. His obsession with quality, led him to set up TQM (Total Quality Management) practice at P&G's flagship manufacturing facility, and later founding QualityKiosk, where he serves as the CEO & Co-founder. He is also an investor and on the Advisory Board of three companies in Mobility, Data Analytics and e-Commerce space.
Analytics India Magazine interacted with Maneesh Jhawar, who enjoys reading books and has a collection of 1000+ classics. In this candid conversation, he shares how the company is using analytics, the benefits of adoption analytics driven approach, challenges and more.
ANALYTICS INDIA MAGAZINE: HOW IS QUALITYKIOSK MAKING USE OF ANALYTICS?
Maneesh Jhawar: The world is a digital marketplace. Smartphones in every hand has enabled consumers to connect with brands 24/7 with the expectations of being delighted at every touchpoint, across every channel. It's a difficult ask unless an organization can predict with relative accuracy the reliability and consistency of the end-user experience they provide.
QualityKiosk's innate ability to correlate multiple disparate data sources to form a single view of the customer journey helps ensure the Quality of Service does not drop below the threshold as required by the business or IT teams' standards.
QualityKiosk's proprietary algorithms for capacity planning, customer journey mapping, business process analysis, continuous robotic monitoring helps clients in different phases of the application life-span.

AIM:  WHEN DID IT ADOPT ANALYTICS DRIVEN APPROACH?
MJ: QualityKiosk's primary analytical engine was developed for CX Guardian, a unique cloud based synthetic monitoring service in the year 2000. Since then, the analytics platform has undergone multiple upgrades, additions in form of tools, technology and capabilities. A 50-member strong dedicated research team works on the principles of continuous learning to constantly upgrade the platform. Algorithms are evolved constantly, AI and machine learning models are added where applicable.
AIM: WHAT HAVE BEEN THE BENEFITS OF USING ANALYTICS? PLEASE SHARE A FEW USE CASES.
MJ: The digital eco-space creates humongous amount of data. Unless this data is processed, it is worthless in its raw form. The benefit of real-time analytics and predictive analytics is actionable insights to delight an otherwise frustrated customer.
For example, let us assume the journey fails for an individual who is buying products on an e-commerce website. The customer will be obviously frustrated. QualityKiosk's analytics platform would identify this failure in terms of the technical root cause and notify the client's IT teams, customer relationship team or call centre. Our research shows that in such situations when organisations proactively reach out to the frustrated customer, the aggrieved customer feels valued that his problem was acknowledged proactively.
AIM: WHAT ARE THE ANALYTICS TOOLS USED BY QUALITYKIOSK?
MJ: QualityKiosk is tool and technology agnostic. Today the IT landscape is a maze of multiple tools and technologies meshed together. QualityKiosk's analytics engine works on the data generated and collected by disparate sources (read tools). The analytics models are customised based on the data captured and the outcomes or insights that the client requires.
AIM: DOES IT MAKE USE OF AI AND OTHER TECHNOLOGIES? IF YES, PLEASE SHARE DETAILS.
MJ: Yes, QualityKiosk uses AI, robotic process automation, continuous monitoring and bots extensively in lot of our processes.
AIM: WHAT ARE THE CHALLENGES OF ADOPTING THE ANALYTICS APPROACH?
MJ: There are two distinct challenges in any analytics model.
Garbage in, garbage out! Here, the challenge is in capturing correct data and removing the noise. When data is correctly captured it makes for a robust analytical model.
The second challenge is in identifying the correct data for the appropriate analytics use case. The outcome of the analytics engine is 'Intelligent Actionable Insights'. In case the right set of data is not identified for a specific use case the insights will be incorrect.
Analytics approach or model must be 'Intelligent' i.e. it must move from Proactive to Preventive to Predictive.
Article first appeared in Analytics India Magazine