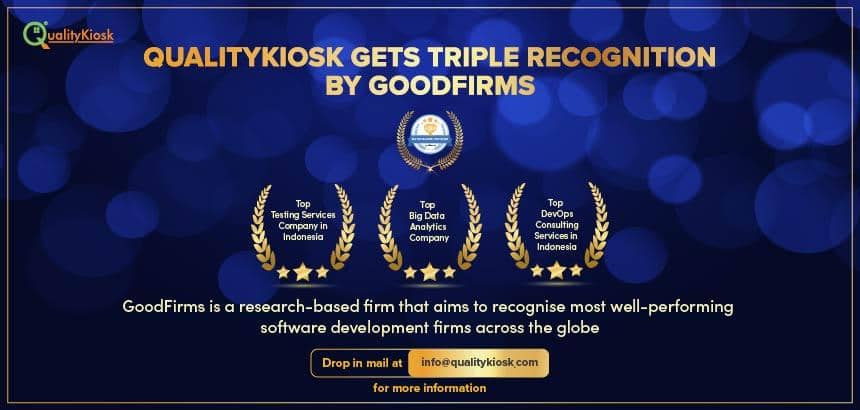 QualityKiosk Technologies Is Gaining A Lot of Traction at GoodFirms for Delivering Software Testing Services
QualityKiosk Technologies is experienced in offering testing services to various companies. Their right approach and inordinate expertise in the firm have made them shine at GoodFirms as the top testing companies. Given below is the detail about the company and its services.
QualityKiosk Technologies Introduction
Founded in 2000, QualityKiosk Technologies is a testing services firm located in Mumbai, India, with another office in Indonesia. With intelligent services and keeping clients' business in mind, the firm offers value-oriented services to clients worldwide. In the business for two decades, QualityKiosk Technologies has been delivering exemplary services with an engineered approach.
The firm's exposure to various tools and technologies has made them a reliable firm offering testing services, big data, DevOps, business automation, and various other services to help clients grow their business. The company has worked with multiple industries to provide innovative solutions. Over the years, QualityKiosk Technologies has worked with financial services, banking, insurance sectors, travel, and telecom sectors.
The firm adopts new technologies and trends to offer leading solutions and to ensure that the clients receive the best services they keep clients' satisfaction in the utmost priority. QualityKiosk Technologies has a global clientele in around 25+ countries with 100% client reference records.
GoodFirms Research Process
GoodFirms is an online forum for analysis and evaluation that ranks and lists different businesses on the website. The companies ranked on the website are evaluated on Quality, Reliability, and Ability parameters after doing extensive research. This helps clients hire a reliable partner.
Similarly, GoodFirms evaluated QualityKiosk Technologies on the same parameters, and it was inferred that they had been continuously serving companies with premium quality services.
Testing Services
QualityKiosk Technologies is helping businesses improve by delivering the right services. The company offers testing services to various industries and ensures that they provide bug-free services to clients. The company's strength lies in its knowledge and zeal to provide excellent customer service. With a systematic approach and proper understanding of their field, they offer services with precision.
The company focuses on making clients shine in the market, the firm goes beyond expectations to deliver the right services. With expertise, conviction and precision, they have till now offered services for a variety of clients. The team of experts knows the strengths and weaknesses to solve complex problems and deliver assured quality services. Therefore, ensuring the highest quality of services, QualityKiosk Technologies is listed as one of the top software testing companies in Indonesia at GoodFirms.
Big Data Services
Big data is the future of business because it helps to create strategies and perform day-to-day activities more efficiently. QualityKiosk Technologies understands all forms of data and helps companies devise strategies accordingly. To assist clients in outperforming big data has given ample opportunities for companies to shine among peers. QualityKiosk Technologies is helping businesses in making informed decisions with big data by analyzing insights.
The learned data scientists and team enthusiasts improve business functions by focusing on highly scalable big data solutions. Plus, the company also focuses equally on maintaining a healthy relationship with the client, which has helped them make a record of zero defects firm—driven by professionalism and commitment to offer result-oriented big data services. The company has served a global clientele that includes many renowned companies. Therefore, for delivering expert services by keeping in mind the customers' needs, GoodFirms spotlights QualityKiosk Technologies as one of the top big data analytics companies at GoodFirms.
DevOps Services
QualityKiosk Technologies excels equally in offering DevOps services that can assist companies in maximizing their business efficiency. By using modern tools and technologies, they improve business processes. The team has a knack for understanding the technicalities and latest tools to deliver solutions that can ultimately lead to increased business profitability.
The company focuses on improving business by delivering quality DevOps services that optimize the entire business and improve speed and stability. To ensure seamless assimilation of development and operations together, the team QualityKiosk Technologies offers end-to-end solutions to various niches. Due to their work and commitment to providing such quality services, QualityKiosk Technologies earns a spot as one of the top DevOps consulting services in Indonesia at GoodFirms.
About GoodFirms
Washington, D.C.-based GoodFirms is an innovative B2B Research and Reviews Company that extensively combs the market to find top Testing Services, Big data, and DevOps Services firms that offer the best services to its customers. GoodFirms' extensive research processes help rank the companies, boost their online reputation and help service seekers pick the right technology partner that meets their business needs.
About the Author
Anna Stark is a staff writer with GoodFirms – a Washington D.C.-based B2B Research Company that bridges the gap between service seekers and service providers. Anna's current role includes gauging companies' performances and their key attributes and putting them into words. She firmly believes in the magic of words and is always on the lookout for new strategies and ideas that companies have gladly embraced, and then helps them shine a light on those to make their identities shine brighter.