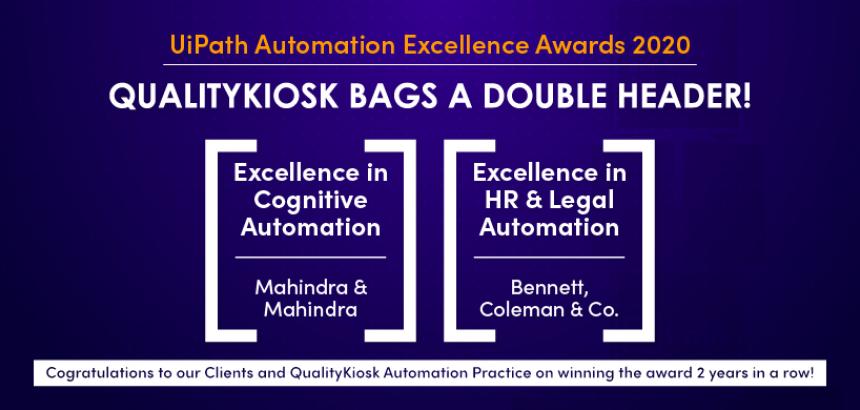 QualityKiosk bagged a doubleheader and kept the winning streak alive for the 2nd consecutive year at the UiPath Automation Excellence Awards 2020!
The second edition of the much-awaited UiPath Automation Excellence Award was held to recognize and celebrate those companies who have best leveraged the "Automation First" approach to transform their businesses.
The winners were selected through a meticulous process of nomination, evaluation, and selection by a jury that included:-
1) Mr. Mohit Bhatnagar [MD – Sequoia Capital India LLP]
2) Mr. Ashok Pai [VP & Global Head – Cognitive Business Operations, TCS]
3) Mr. Pari Natrajan [CEO, Zinnov]
4) Mr. Pranjal Sharma [Economic Analyst, Advisor and Author of India Automated: How the Fourth Industrial Revolution is transforming India]
5) Mr. Ranjeev Rangrass [Group Head for R&D, Sustainability and Projects, ITC]
6) Ms. Anhubhuti Sanghai [Head of Operations and Customer Service, ICICI Bank]
QualityKiosk in partnership with our customers won two awards across two award categories –
1) Excellence in Cognitive Automation [Mahindra and Mahindra Limited]
2) Excellence in HR & Legal Automation [Bennett, Coleman & Co]

We hereby congratulate our leadership, our Automation practice, as well as our client partners on the joint success!