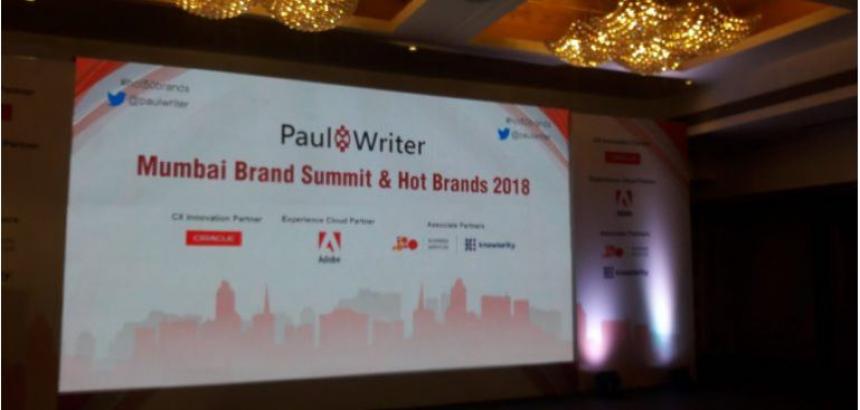 Mumbai is not just the financial capital of India but is home to century-old brands as well as digital-age fast-growth startups. Some are homegrown success stories, others global brands who have their India headquarters here.
Paul Writer, India's first community of marketers, recognized Mumbai Hot 50 Brands at the Mumbai Brand Summit & Hot Brands 2018 on 15th February at The St. Regis, Mumbai.
The 'Mumbai Hot Brands' was diligently selected by a mix of popular voting and an elite panel of jury. The brand summit is conceptualized as a power-packed afternoon of discussions, sharing, & learning followed by an evening celebrating the achievements of the 'Mumbai Hot Brands'.
Panel discussions that took place during Mumbai Brand Summit were Brand Hacking: How to achieve rapid scaling of your brand and CX for Brand Growth. This discussion revolved around: Can customer loyalty fuel fast growth, How can technology provide a better customer experience, How one should gearing up for the customers of the future, and Can customer loyalty fuel fast growth. These discussions hosted elite panelists including Siddharth Banerjee, CMO of Vodafone, Darshana Shah, CMO of Aditya Birla Health Insurance, Sunder Madakshira, Head of Marketing at Adobe Experience Cloud, Madhu Dua, Vice, President Marketing at Reliance Jio Infocomm Ltd, Shantanu Mathur, Country Head of Knowlarity,​​moderated by Jessie Paul, CEO, Paul Writer​.
More than 200 dignitaries from leading brands from Mumbai attended the event. QualityKiosk got recognized for "Innovative Use of Technology." The trophies were presented to the winners during a gala ceremony at The St. Regis, Mumbai. The daylong event concluded with an engrossing Fireside Chat involving Devita Saraf, Founder & CEO, Vu and Jessie Paul, CEO, Paul Writer.