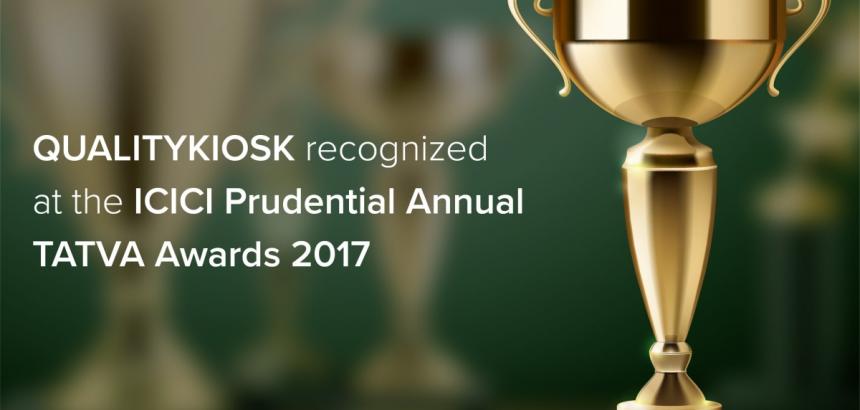 The era of Digital Insurance has commenced. The last few years have witnessed the transformation of the Indian Insurance industry. Innovation and change are mandatory, and the rules are invariably changing based on ever-increasing demands from customers.
Recently ICICI Prudential recognized QualityKiosk's commitment towards empowering ICICI Prudential to provide a stellar experience to their customers and awarded us the TATVA Award. TATVA symbolizes the philosophy of excellence and represents the aspiration to excel over and above customer expectations.
Chitra, COO, QualityKiosk commented, "In our decade-long association with ICICI Prudential Life, our philosophy has been to delight our Clients' end-users and use technology platforms like QATH to deliver value for our clients. I would like to recognize all the QKites who have contributed towards the TATVA Award. I would also like to thank, ICICI Prudential for choosing QualityKiosk as its strategic quality assurance partner and recognizing us with this award".
QualityKiosk uses cutting-edge technology to automate quality assurance of ICICI Prudential's core applications. In their eleven-year association, QualityKiosk has consistently co-created value with ICICI Prudential using IP-led automation platform 'QATH', deep domain expertise, and best-in-class processes that ensure quick takeoff and scalability along the test automation journey.
QualityKiosk offers Insurance Clients tried and tested software quality assurance solutions. With over 17 years of Insurance domain expertise, QualityKiosk delivers software testing solutions for functional testing, test automation, performance testing, digital testing, and customer journey management and optimization.
ABOUT QUALITYKIOSK
QualityKiosk Technologies is one of the world's largest Independent Software Assurance Providers. QualityKiosk's 1200+ quality assurance experts are spread across 20+ countries in APAC, Middle-East, and Far-East Regions.
QualityKiosk Consultants have extensive expertise across the Insurance and Banking vertical. Our cohesive line of quality assurance services includes functional assurance, digital performance management, business process automation, DevOps, continuous testing, QA assessments, safeguarding end-user experience and consulting & analytics.
In this seventeen-year journey, we count more than 50 of the Fortune 100 of India and 18 of the Fortune 500 companies across the globe as our Clients. For more details, please visit http://www.qualitykiosk.com