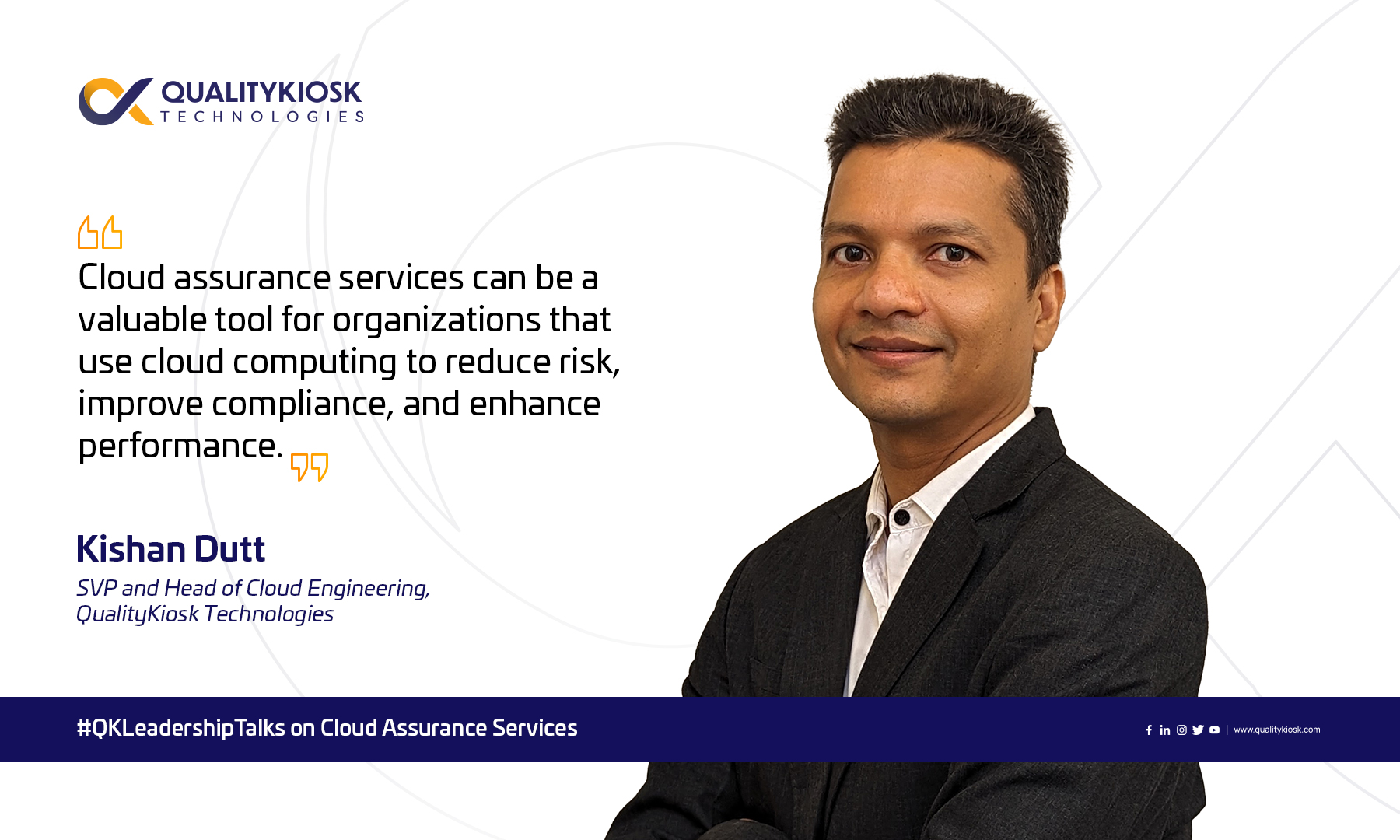 Cloud computing has become the de factor standard for IT (Information Technology) delivery, with businesses of all sizes moving their workloads to the cloud. However, the shift to the cloud has also introduced new risks and challenges. One of the most important considerations is cloud assurance, which is the process of ensuring that cloud services meet the organization's security, compliance, and performance requirements.  
According to Data Bridge Market Research, the cloud assurance market is forecasted to reach $39.42Bn by 2030 at a CAGR (Compound Annual Growth Rate) of 16.40%. The reason for growth can be understood because of the benefits it offers. 
Benefits of Cloud Assurance Services

 
Enhanced performance:

Optimize cloud environments for better performance and reliability.

 

Minimized risk:

Identify and mitigate cloud security risks, reducing the likelihood of data breaches and security incidents.

 

Improved compliance:

Ensure compliance with industry regulations and standards, including HIPAA, PCI DSS, and GDPR.

 

Reduced costs:

Avoid the expenses associated with security incidents, such as lost revenue, damage to reputation, and regulatory fines.

 
In addition to these general benefits, cloud assurance services can also help businesses to: 
Improve their cloud security posture:

Identify and address security gaps in their cloud environment.

 

Implement cloud security best practices:

Such as least privilege access control and multi-factor authentication.

 

Detect threats and vulnerabilities:

Monitor their cloud environment for these and respond promptly.

 

Prepare for audits:

Ensure their cloud environment complies with relevant regulations and standards.

 
In various industries, cloud assurance services are enhancing cloud security, compliance, performance, and cost-effectiveness: 
Healthcare organizations ensure compliance with HIPAA regulations in their cloud environment.

 

Financial services organizations meet PCI DSS standards in their cloud environment.

 

Retail organizations safeguard customer data from cyberattacks.

 

Government agencies adhere to federal and state regulations.
Types of Cloud Assurance Services

 
Cloud security assessment:

Comprehensive evaluation of an organization's cloud environment to identify security risks, vulnerabilities, and compliance with industry regulations and standards.

 

Cloud penetration testing:

Simulates attacks on the organization's cloud environment to discover vulnerabilities exploitable by attackers.

 

Cloud security monitoring:

Ongoing monitoring of the cloud environment for threats, utilizing tools and techniques to detect and respond to security issues.

 
Specialized Cloud Assurance Services

 
Cloud application security testing:

Focuses on identifying and mitigating security vulnerabilities in cloud applications.

 

Cloud infrastructure security testing:

Identifies and mitigates security vulnerabilities in the underlying cloud infrastructure.

 

Cloud data security testing:

Concentrates on identifying and mitigating security vulnerabilities in cloud data storage.

 
Organizations can choose the cloud assurance services that are most relevant to their needs and budget. It is also important to note that cloud assurance services can be used in conjunction with each other to provide a comprehensive approach to cloud security and compliance.  
For example, an organization might start by having a cloud security assessment performed to identify any security risks or vulnerabilities in their cloud environment. Once the assessment is complete, the organization could then implement cloud security monitoring and cloud compliance assessment services to ensure that their cloud environment remains secure and compliant over time.  
Cloud assurance services can be a valuable tool for organizations of all sizes that are using cloud computing. By using cloud assurance services, organizations can reduce risk, improve compliance, enhance performance, and reduce costs. 
Advantages of

QualityKiosk

for

C

loud

A

ssurance

S

ervices

 
We offer a range of cloud assurance solutions that meet the needs of a variety of businesses. This includes services such as: 
Cloud security assessments

 

Penetration testing

 

Cloud security monitoring

 

Cloud compliance assessments 

 
We provide competitive pricing, ensuring accessibility to a wide range of businesses.  
Our Key Differentiators Include

 
Focus on cloud security:

Our dedicated focus enables us to offer new-age cloud security solutions.

 

Industry expertise:

We specialize in various industries, including healthcare, financial services, retail, telecom, and government, addressing industry-specific cloud security challenges.

 

Global reach:

With offices in multiple countries across the US, EMEA, APAC, we offer cloud assurance services worldwide.

 

 

Overall, QualityKiosk is a well-positioned provider of cloud quality assurance services, offering experience, expertise, a strong reputation, and a global presence to deliver top-notch cloud security solutions to clients. 
- SVP and Head of Cloud Engineering, QualityKiosk Technologies
Kishan Dutt has over 2 decades of experience in Telecom, working with global leaders (Ericsson) and MTN, Airtel, Orange Group, Telefonica, DT Group (Including Sprint/T-Mobile), Vodafone, Indosat, Telenor Asia (DTAC, Digi, TML), and NBN. Kishan has international stints across Europe, Africa, and APAC regions, leading multi-cultural teams consisting of 2500+ professionals. 
Prior to QualityKiosk, Kishan was heading GNOC operate center in India, leading service delivery for 30+ international telecom operators. He has rich experience in Network Operations, Planning and Design, Optimization, and support.