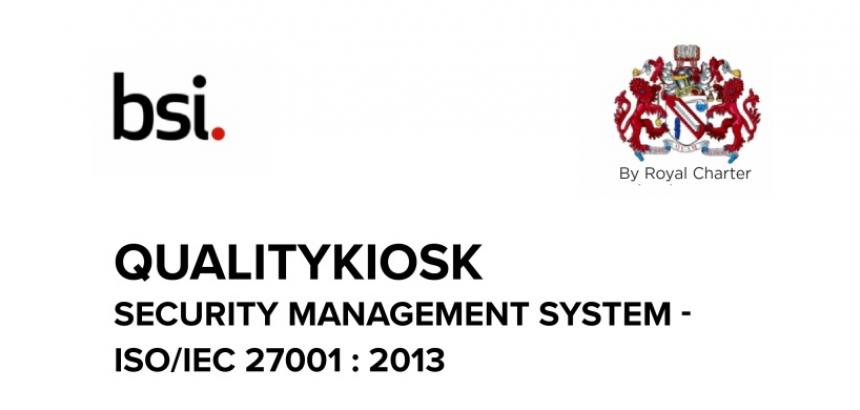 QualityKiosk, one of the largest independent quality assurance players globally, today announced that it had been awarded International Standard Organisation (ISO) 27001 Certification from the British Standards Institution (BSI).
We are the partner of choice for Banking, Financial Services, Insurance, Retailers, Telecoms, Automotive and Airline industries across ASEAN, Middle-East, USA, and India. With the advent of the digital era, organizations are capturing more data to deliver personalized offerings to their end customers. Best practices around data security and privacy are of paramount importance.
The ISO 27001 standard certifies that QualityKiosk has adequate checks and balances in place to ensure that our client data is secure and protected. This certification is awarded to organizations that meet the stringent requirements set by BSI and validated by a team of independent auditors.
QualityKiosk promises velocity, quality, and experience in all its quality assurance solutions. Automated test data management is an integral part of the software quality assurance life cycle. This certification reinforces our commitment to ensuring the delivery of world-class QA solutions with industry-accepted and certified best practices and robust processes.
We have deployed a cross-functional Information Security Management team dedicated to the prevention and monitoring of security threats, formulating best practices, and implementing the organization's InfoSec vision of implementing Information Security in the letter as well as in spirit.
ABOUT QUALITYKIOSK
QualityKiosk Technologies is one of the world's largest Independent Software Quality Assurance Providers. Our 1400+ quality assurance experts are spread across 20+ countries in India, ASEAN, Middle-East, and USA.
Our Consultants have extensive expertise across the Insurance and Banking vertical. Our cohesive line of quality assurance services includes functional assurance, digital performance management, business process automation, DevOps, continuous testing, QA assessments, safeguarding end-user experience, and consulting & analytics.
In this seventeen-year journey, we count more than 50 of the Fortune 100 of India and 18 of the Fortune 500 companies across the globe as our Clients. For more details, please visit http://www.qualitykiosk.com