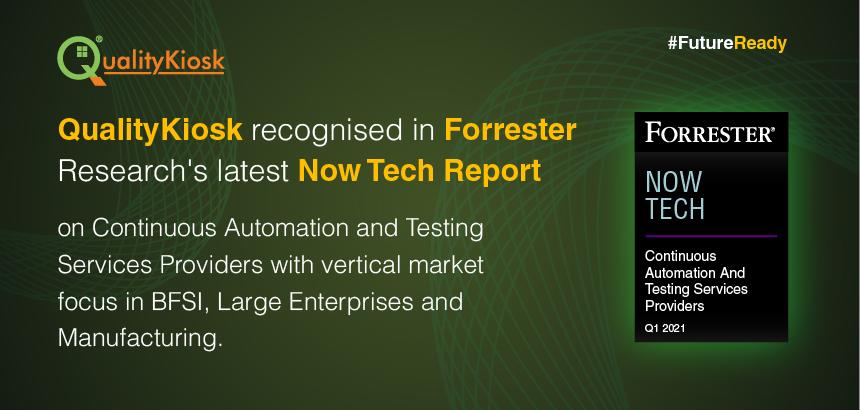 Continuous Automation is key to our mission of delivering a #FutureReady​ Digital Organization. Forrester Research recognizes us in their Global "Now Tech Report on Continuous Automation and Testing services" with a vertical market focus in BFSI, Large Enterprises, and Manufacturing. This report is authored by Principal Analyst (Global), Diego Lo Giudice, Application Development and Delivery.
This was covered by the media houses in the following Press Release copy
QUALITYKIOSK FEATURES IN THE LATEST NOW TECH: CONTINUOUS AUTOMATION AND TESTING SERVICES, Q1 2021 REPORT
Mumbai (Maharashtra) [India]
QualityKiosk has always been a pioneer and forerunner when it comes to innovation and leading the technological march.

On their mission to deliver #FutureReady Digital Organizations via Continuous Automation, QualityKiosk was recognized by leading research and advisory firm Forrester in the "Now Tech: Continuous Automation and Testing Services, Q1 2021" report with a vertical market focus in BFSI, Large Enterprises, and Manufacturing. This report, authored by Forrester Vice President and Principal Analyst primarily serving Application Development and Delivery professionals, Diego Lo Giudice, overviews 43 Continuous Automation Testing (CAT) providers and helps Application development and delivery (AD&D) leaders to understand the value they can
expect from a CAT provider and to select one based on size and functionality. The report was released on 23rd February 2021 and updated on 31st March 2021.
You may read more about it on https://www.qualitykiosk.com/qualitykiosk-features-forresters-now-tech-report-continuous-automation-and-testing-services
Drop a mail on info@qualitykiosk.com to understand, how QualityKiosk's Continuous Automation practice can help your organization.

QualityKiosk Technologies is one of the world's largest Digital Quality Engineering partners and pioneers in performance engineering for the largest Banking and Financial Services, Telecom, and Automobile clients. Founded in the year 2000 by IIT-Kanpur graduates, the company offers Enterprise Digital Quality Assurance solutions for banking, financial services, insurance, retail, e-commerce, government, automotive, and telecom verticals.
To know more about QualityKiosk, visit https://www.qualitykiosk.com/

This has been featured on the following press release portals:


1.Business Standard: https://www.business-standard.com/content/press-releases-ani/qualitykiosk-features-in-the-latest-now-tech-continuous-automation-and-testing-services-q1-2021-report-121060500568_1.html
2. ANI News: https://aninews.in/news/business/business/qualitykiosk-features-in-the-latest-now-tech-continuous-automation-and-testing-services-q1-2021-report20210605143728/
3. Latestly: https://www.latestly.com/agency-news/business-news-qualitykiosk-features-in-the-latest-now-tech-continuous-automation-and-testing-services-q1-2021-report-2524469.html
4. The Print: https://theprint.in/ani-press-releases/qualitykiosk-features-in-the-latest-now-tech-continuous-automation-and-testing-services-q1-2021-report/672572/?amp#aoh=16229092372527&referrer=https%3A%2F%2Fwww.google.com&amp_tf=From%20%251%24s
5. Yahoo News: https://in.news.yahoo.com/qualitykiosk-features-latest-now-tech-091136772.html
6. Lokmat English: https://english.lokmat.com/business/qualitykiosk-features-in-the-latest-now-tech-continuous-automation-and-testing-services-q1-2021/
7. Zee5: https://www.zee5.com/zee5news/qualitykiosk-features-in-the-latest-now-tech-continuous-automation-and-testing-services-q1-2021-report
8. Yahoo Style: https://in.style.yahoo.com/qualitykiosk-features-latest-now-tech-091136772.html
9. Business Journal: https://business-journal.in/general-news/qualitykiosk-features-in-the-latest-now-tech-continuous-automation-and-testing-services-q1-2021-report-business-journal/
10. Big News Network: https://www.bignewsnetwork.com/news/269767471/qualitykiosk-features-in-the-latest-now-tech
11. PR Sync: http://prsync.com/qualitykiosk-technologies/qualitykiosk-features-in-the-latest-now-tech-continuous-automation-and-testing-services-q–report-3417180/
12. PR Free: https://www.prfree.org/@qk2022/qualitykiosk-features-in-the-latest-now-tech-continuous-automation-and-testing-services-q1-2021-report-ypm4qpj54k85
13. PR: https://www.pr.com/press-release/836412
14. 1888 Press Release: https://www.1888pressrelease.com/qualitykiosk-features-in-the-latest-now-tech-continuous-aut-pr-691842.html
15.PR Log: https://www.prlog.org/12869433-qualitykiosk-features-in-the-latest-now-tech-continuous-automation-and-testing-services-q1-2021.html
16. ANI News: https://aninews.in/news/business/business/qualitykiosk-features-in-the-latest-now-tech-continuous-automation-and-testing-services-q1-2021-report20210605143728/
17. Yahoo Finance: https://ca.finance.yahoo.com/finance/news/qualitykiosk-features-latest-now-tech-091136772.html
18. News Kerala: https://www.newkerala.com/news/2021/78177.htm
19. Jio News: https://jionews.com/home/article/10/180183165/QualityKiosk-features-in-the-latest-Now-Tech-Continuous-Automation-and-Testing-Services-Q1-2021-report
20. Mantras: https://mantras.tv/2021/06/05/qualitykiosk-features-in-the-latest-now-tech-continuous-automation-and-testing-services-q1-2021-report/
21. Punjab Tribune: http://www.punjabtribune.com/news/297907-qualitykiosk-features-in-the-latest-now-tech-continuous-automation-and-testing-services-q1-2021-report.aspx
22. Just Dial: https://www.justdial.com/JdSocial/news/Latest-QualityKiosk/QualityKiosk-features-in-the-latest-Now-Tech-Continuous-Automation-and-Testing-Services-Q1-2021-report/1622885469328000?dl=1
23. News Now: https://www.newsnow.co.uk/h/?search=QualityKiosk+features+in+the+latest+Now+Tech%3A+Continuous+Automation+and+Testing+Services
24. WebIndia: https://news.webindia123.com/news/articles/Business/20210605/3766894.html
25. DailyHunt: https://m.dailyhunt.in/news/india/english/ani+english-epaper-anieng/qualitykiosk+features+in+the+latest+now+tech+continuous+automation+and+testing+services+q1+2021+report-newsid-n287125518?s=a&uu=0xe76ad7118df1d9d0&ss=pd
26. South India News: https://www.southindianews.in/search/?query=QualityKiosk+features+in+the+latest+Now+Tech%3A+Contin
27. West Bengal Khabar: https://www.westbengalkhabar.in/news/qualitykiosk-features-in-the-latest-now-tech-continuous-automation-and-testing-services-q1-2021-report20210605143725/
28. Telangana Journal: https://www.telanganajournal.in/news/qualitykiosk-features-in-the-latest-now-tech-continuous-automation-and-testing-services-q1-2021-report20210605143725/
29. Rajasthan Ki Khabar: https://www.rajasthankikhabar.com/news/qualitykiosk-features-in-the-latest-now-tech-continuous-automation-and-testing-services-q1-2021-report20210605143725/
30 Punjab Live: . https://www.punjablive.news/news/qualitykiosk-features-in-the-latest-now-tech-continuous-automation-and-testing-services-q1-2021-report20210605143725/
31. Odisha Post: https://www.odishapost.news/news/qualitykiosk-features-in-the-latest-now-tech-continuous-automation-and-testing-services-q1-2021-report20210605143725/
32. North East Times: https://www.northeasttimes.in/news/qualitykiosk-features-in-the-latest-now-tech-continuous-automation-and-testing-services-q1-2021-report20210605143725/
33. Maharastra Samachar: https://www.maharashtrasamachar.com/news/qualitykiosk-features-in-the-latest-now-tech-continuous-automation-and-testing-services-q1-2021-report20210605143725/
34. Madhya Pardesh Chronicles: https://www.madhyapradeshchronicle.com/news/qualitykiosk-features-in-the-latest-now-tech-continuous-automation-and-testing-services-q1-2021-report20210605143725/
35. Kashmir News Live: https://www.kashmirnewsline.in/news/qualitykiosk-features-in-the-latest-now-tech-continuous-automation-and-testing-services-q1-2021-report20210605143725/
36. Karnataka Live: https://www.karnatakalive.in/search/?query=QualityKiosk+features+in+the+latest+Now+Tech%3A+Continuous+Automation+and+Testing
37. Indian News Network: https://www.indiannewsnetwork.net/news/qualitykiosk-features-in-the-latest-now-tech-continuous-automation-and-testing-services-q1-2021-report20210605143725/
38. Haryana Today: https://www.haryanatoday.in/news/qualitykiosk-features-in-the-latest-now-tech-continuous-automation-and-testing-services-q1-2021-report20210605143725/
39. Gujarat Samachar: https://www.gujaratsamachar.news/news/qualitykiosk-features-in-the-latest-now-tech-continuous-automation-and-testing-services-q1-2021-report20210605143725/
40. Delhi Live News: https://www.delhilivenews.in/news/qualitykiosk-features-in-the-latest-now-tech-continuous-automation-and-testing-services-q1-2021-report20210605143725/
41. Chhatissgarh Today: https://www.chhattisgarhtoday.in/news/qualitykiosk-features-in-the-latest-now-tech-continuous-automation-and-testing-services-q1-2021-report20210605143725/
42. Bihar 24X7: https://www.bihar24x7.com/news/qualitykiosk-features-in-the-latest-now-tech-continuous-automation-and-testing-services-q1-2021-report20210605143725/
43. Australian Moning Tribune: https://www.australiamorningtribune.com/news/qualitykiosk-features-in-the-latest-now-tech-continuous-automation-and-testing-services-q1-2021-report20210605143725/
44. Birmingham All News Network: https://www.birminghamallnewsnetwork.com/news/qualitykiosk-features-in-the-latest-now-tech-continuous-automation-and-testing-services-q1-2021-report20210605143725/
45. British Columbia Times: https://www.britishcolumbiatimes.com/news/qualitykiosk-features-in-the-latest-now-tech-continuous-automation-and-testing-services-q1-2021-report20210605143725/
46. British News Network: https://www.britishnewsnetwork.com/news/qualitykiosk-features-in-the-latest-now-tech-continuous-automation-and-testing-services-q1-2021-report20210605143725/
47. Buffalo Despatch: https://www.buffalodespatch.com/news/qualitykiosk-features-in-the-latest-now-tech-continuous-automation-and-testing-services-q1-2021-report20210605143725/
48. California Star: https://www.californiastar.news/news/qualitykiosk-features-in-the-latest-now-tech-continuous-automation-and-testing-services-q1-2021-report20210605143725/
49. Capitol Hill Reporter: https://www.capitolhillreporter.com/news/qualitykiosk-features-in-the-latest-now-tech-continuous-automation-and-testing-services-q1-2021-report20210605143725/
50. Dubai City Reporter: https://www.dubaicityreporter.com/news/qualitykiosk-features-in-the-latest-now-tech-continuous-automation-and-testing-services-q1-2021-report20210605143725/
51. East Aisa All News Portal: https://www.eastasiaallnewsportal.com/news/qualitykiosk-features-in-the-latest-now-tech-continuous-automation-and-testing-services-q1-2021-report20210605143725/
52. England News Portal: https://www.englandnewsportal.com/news/qualitykiosk-features-in-the-latest-now-tech-continuous-automation-and-testing-services-q1-2021-report20210605143725/
53. European Sun-Times: https://www.europeansuntimes.com/news/qualitykiosk-features-in-the-latest-now-tech-continuous-automation-and-testing-services-q1-2021-report20210605143725/
54. Federal Despatch: https://www.federaldespatch.com/news/qualitykiosk-features-in-the-latest-now-tech-continuous-automation-and-testing-services-q1-2021-report20210605143725/
55. Florida Breaking News: https://www.floridabreakingnews.com/news/qualitykiosk-features-in-the-latest-now-tech-continuous-automation-and-testing-services-q1-2021-report20210605143725/
56. East Coast America News: https://www.eastcoastamericannews.com/news/qualitykiosk-features-in-the-latest-now-tech-continuous-automation-and-testing-services-q1-2021-report20210605143725/
57. France Network Times: https://www.francenetworktimes.com/news/qualitykiosk-features-in-the-latest-now-tech-continuous-automation-and-testing-services-q1-2021-report20210605143725/
58. Japan Times: https://www.japantimestoday.com/news/qualitykiosk-features-in-the-latest-now-tech-continuous-automation-and-testing-services-q1-2021-report20210605143725/
59. Kuwait Times: https://www.kuwaittimes.news/news/qualitykiosk-features-in-the-latest-now-tech-continuous-automation-and-testing-services-q1-2021-report20210605143725/
60. Los Angeles Evening Despatch: https://www.losangeleseveningdespatch.com/news/qualitykiosk-features-in-the-latest-now-tech-continuous-automation-and-testing-services-q1-2021-report20210605143725/
61. English Press 24: https://english.press24.in/2021/06/05/qualitykiosk-features-in-the-latest-now-tech-continuous-automation-and-testing-services-q1-2021-report/
62. Banks India: https://banksindia.org/qualitykiosk-features-in-the-latest-now-tech-continuous-automation-and-testing-services-q1-2021-report/
63. Shafaqna: https://in.shafaqna.com/EN/AL/3553485
64. Technology For You: https://www.technologyforyou.org/qualitykiosk-features-in-the-latest-now-tech/
65. Excllentravel: https://excellentravel.com/lastNews/QualityKiosk
66. Illinois News Today: https://illinoisnewstoday.com/latest-now-tech-qualitykiosk-features/233869/
67. eLocation Finder: https://elocationfinder.com/qualitykiosk-features-in-the-latest-now-tech-continuous-automation-and-testing-services-q1-2021-report-elocationfinder/
68. Maldives Star Plus: https://www.maldivesstarplus.com/news/qualitykiosk-features-in-the-latest-now-tech-continuous-automation-and-testing-services-q1-2021-report20210605143725/
69. Miami News-Herald: https://www.miaminewsherald.com/news/qualitykiosk-features-in-the-latest-now-tech-continuous-automation-and-testing-services-q1-2021-report20210605143725/
70. Middle East Times: https://www.middleeasttimes.news/news/qualitykiosk-features-in-the-latest-now-tech-continuous-automation-and-testing-services-q1-2021-report20210605143725/
71. Mountain View Sentinel: https://www.mountainviewsentinel.com/news/qualitykiosk-features-in-the-latest-now-tech-continuous-automation-and-testing-services-q1-2021-report20210605143725/
72. New York Despatch: https://www.newyorkdespatch.com/news/qualitykiosk-features-in-the-latest-now-tech-continuous-automation-and-testing-services-q1-2021-report20210605143725/
73. Rich Mond Eveneing News: https://www.richmondeveningnews.com/news/qualitykiosk-features-in-the-latest-now-tech-continuous-automation-and-testing-services-q1-2021-report20210605143725/
74. San Francisco Star: https://www.sanfranciscostar.news/news/qualitykiosk-features-in-the-latest-now-tech-continuous-automation-and-testing-services-q1-2021-report20210605143725/
75. South China Herald: https://www.southchinaherald.news/news/qualitykiosk-features-in-the-latest-now-tech-continuous-automation-and-testing-services-q1-2021-report20210605143725/
76. Sri Lanka Island News: https://www.srilankaislandnews.com/news/qualitykiosk-features-in-the-latest-now-tech-continuous-automation-and-testing-services-q1-2021-report20210605143725/
77. Sydney Evening Post: https://www.sydneyeveningpost.com/news/qualitykiosk-features-in-the-latest-now-tech-continuous-automation-and-testing-services-q1-2021-report20210605143725/
78. Toronto Suntimes: https://www.torontosuntimes.com/news/qualitykiosk-features-in-the-latest-now-tech-continuous-automation-and-testing-services-q1-2021-report20210605143725/
79. UAE Times: https://www.uaetimes.news/news/qualitykiosk-features-in-the-latest-now-tech-continuous-automation-and-testing-services-q1-2021-report20210605143725/
80. USA Report: https://www.usareport.news/news/qualitykiosk-features-in-the-latest-now-tech-continuous-automation-and-testing-services-q1-2021-report20210605143725/
81. US World Today: https://www.usworldtoday.com/news/qualitykiosk-features-in-the-latest-now-tech-continuous-automation-and-testing-services-q1-2021-report20210605143725/
82. Van Couver Herald: https://www.vancouverherald.news/news/qualitykiosk-features-in-the-latest-now-tech-continuous-automation-and-testing-services-q1-2021-report20210605143725/
83. Wall Street Sentinel: https://www.wallstreetsentinel.news/news/qualitykiosk-features-in-the-latest-now-tech-continuous-automation-and-testing-services-q1-2021-report20210605143725/
84. Washington DC Despatch https://www.washingtondcdespatch.com/news/qualitykiosk-features-in-the-latest-now-tech-continuous-automation-and-testing-services-q1-2021-report20210605143725/
85. West Minister Times: https://www.westminstertimes.news/news/qualitykiosk-features-in-the-latest-now-tech-continuous-automation-and-testing-services-q1-2021-report20210605143725/
86. White House News Times: https://www.whitehousenewstime.com/news/qualitykiosk-features-in-the-latest-now-tech-continuous-automation-and-testing-services-q1-2021-report20210605143725/
87. Wisconsin Journal: https://www.wisconsinjournal.news/news/qualitykiosk-features-in-the-latest-now-tech-continuous-automation-and-testing-services-q1-2021-report20210605143725/
88. World News Network: https://www.worldnewsnetwork.net/news/qualitykiosk-features-in-the-latest-now-tech-continuous-automation-and-testing-services-q1-2021-report20210605143725/
89. Bombay News https://www.bombaynews.net/news/269767471/qualitykiosk-features-in-the-latest-now-tech
90. Mumbai News: https://www.mumbainews.net/news/269767471/qualitykiosk-features-in-the-latest-now-tech
91. India News: https://www.indiasnews.net/news/269767471/qualitykiosk-features-in-the-latest-now-tech
92. Global Post: https://theglobal-post.com/qualitykiosk-features-in-the-latest-now-tech-continuous-automation-and-testing-services-q1-2021-report/
93. Morning Mail Live: https://morningmaillive.com/qualitykiosk-features-in-the-latest-now-tech-continuous-automation-and-testing-services-q1-2021-report/
94. Voice 24 News: https://voice24news.com/qualitykiosk-features-in-the-latest-now-tech-continuous-automation-and-testing-services-q1-2021-report/
95. HBW News: https://hbwnews.com/qualitykiosk-features-in-the-latest-now-tech-continuous-automation-and-testing-services-q1-2021-report/
96. MENA FN: https://menafn.com/1102226236/QualityKiosk-features-in-the-latest-Now-Tech-Continuous-Automation-and-Testing-Services-Q1-2021-report