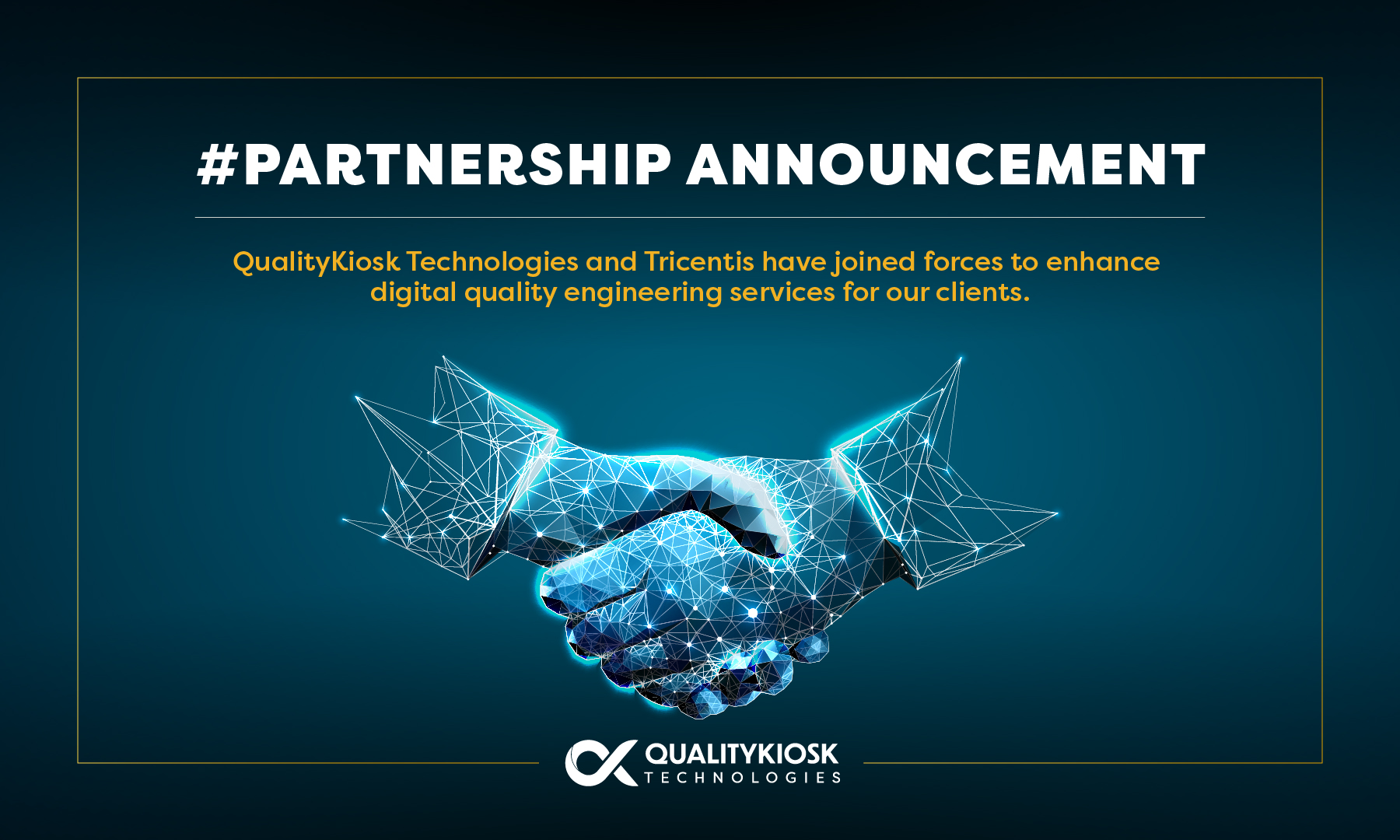 QualityKiosk Technologies, one of the largest independent digital transformation and quality engineering solutions providers, and Tricentis, a global leader in continuous testing and quality engineering, announced a strategic partnership to enhance digital quality engineering services for their clients.
Under the partnership, QualityKiosk will integrate Tricentis automation solutions into its existing suite of QA and QE solutions, enabling its clients to benefit from test automation, continuous testing, and DevOps.
Together, QualityKiosk and Tricentis will enable organizations to:
– Reduce testing time and costs while increasing test coverage and accuracy
– Accelerate time to market with faster, automated testing processes
– Improve customer satisfaction by delivering high-quality digital experiences
– Minimize business risks by detecting defects early in the software development lifecycle
Speaking on the partnership, Founder and CEO of QualityKiosk Technologies, Maneesh Jhawar, said, "Our partnership with Tricentis is unique because it combines the best of both worlds: our deep domain expertise in quality engineering and Tricentis' AI-driven automation, no code, script-less solutions. The partnership will help us deliver more value to our clients and achieve their digital transformation goals."
"QualityKiosk's expertise in quality engineering combined with our AI-driven automation technology will enable our clients to accelerate software delivery, improve the quality of their applications, and deliver high-quality digital experiences," said VJ Kumar, SVP and GM of Strategic Partnerships, Tricentis. "By partnering with QualityKiosk, we are strengthening our commitment to providing our clients with the tools and expertise they need to succeed in the digital age."
The partnership will also enable QualityKiosk to expand its global footprint and reach new customers across industries. QualityKiosk's domain knowledge across industries and 22+ years of experience in Digital Quality Engineering will bolster Tricentis' position even further as a leader in the QA/QE market.
Tricentis is a global leader in continuous testing and quality engineering. The Tricentis AI-based, continuous testing portfolio of products provide a new and fundamentally different way to perform software testing. An approach that's totally automated, fully codeless, and intelligently driven by AI. It addresses both agile development and complex enterprise apps, enabling enterprises to accelerate their digital transformation by dramatically increasing software release speed, reducing costs, and improving software quality. Widely credited for reinventing software testing for DevOps, cloud, and enterprise applications, Tricentis has been recognized as a leader by all major industry analysts, including Forrester, Gartner, and IDC. Tricentis has more than 2,700 customers, including the largest brands in the world, such as McKesson, Accenture, Allianz, Telstra, Dolby, and Vodafone. To learn more, visit https://www.tricentis.com.
QualityKiosk Technologies is one of the world's largest independent Quality Assurance (QA) providers and digital transformation enablers, helping companies build and manage applications for optimal performance and user experience. Founded in 2000, the company specializes in providing QA automation, performance assurance, robotic process automation (RPA), customer experience management, site reliability engineering (SRE), digital testing as a service (DTaaS), cloud, and data analytics solutions and services. With operations spread across 25+ countries and a workforce of more than 3000 employees, the organization is enabling some of the leading banking, e-commerce, automotive, telecom, insurance, OTT, entertainment, pharmaceuticals, and BFSI brands to achieve their business transformation goals. QualityKiosk Technologies has been featured in renowned global advisory firms' reports, including Forrester, Gartner, and The Everest Group, for its innovative, IP-led quality assurance solutions and the positive impact it has created for its clients in the fast-changing digital landscape.
To learn more, visit https://qualitykiosk.com.
For more information, contact:
Press Coverage Websites:
ANI: QualityKiosk Technologies announces strategic partnership with Tricentis; expands value added QE services
Business Standard: QualityKiosk Technologies announces strategic partnership with Tricentis; expands value added QE services
LiveMint: QualityKiosk Technologies announces strategic partnership with Tricentis; expands value added QE services
Daily Hunt: QualityKiosk Technologies announces strategic partnership with Tricentis; expands value added QE services